Shared Transfer Overview & Sending/Receiving
Custom team URL page, shared wallpapers & email branding
Teams Switcher (how to switch between your teams/personal account in the navigation settings)
Get ready to experience WeTransfer together with your whole team!
Got a big project you're working on and needing some extra hands to help? Now you can create teams within your WeTransfer Premium or Pro account.
We have taken on board the feedback we've received from people regarding creating a teams option with a WeTransfer subscription and are now taking the first steps to introduce this function.
Not only do your team members have all the offerings that a WeTransfer Premium or Pro account has, but you're the team captain!
Transfer size
You'll be able to send transfers of your preferred size. You've read it right, unlimited.
You'll then be able to send transfers up to 200 GB or unlimited transfers in size with each of your transfers, that's way more than 100x the size offered when transferring with the free service.
Storage
Premium
Unlimited storage. For more information on unlimited storage, check out this article.
Pro
You can store up to 1 TB of sent transfers from your WeTransfer page. From there, you can access them whenever you like.
Shared Transfer Overview & Sending/Receiving
All team members are able to see and manage all active transfers. Transfers sent & received by any team members show up in your transfer overview panel.
Sending
Each team member can send transfers from their own email address. All sent transfers will be visible in the sent transfer overview for everyone. You can also search by the sender to make things clearer.
Anyone can also edit or delete these in your transfer overview panel.
Receiving
Senders can only upload transfers through the team's WeTransfer page and only the original admin's email address will receive email notifications of content sent to the team. It is currently not possible to send to individual members of the team so that they also receive a notification.
All files received will end up in the received tab of the shared transfer overview panel.
Custom team name
You are able to choose any team name up to a limit of 50 characters, so let your imagination run wild!
By default your team will be your first name's team, if we don't have a first name in the database it will be your full name.
Example: If the name on your account is Support Help, then the team name will automatically become Support's Team.
Custom team URL page, shared wallpapers & email branding
You can brand your team page as you wish and also choose a custom URL/WeTransfer domain. The wallpapers uploaded to this URL are shared with the whole team, keeping everyone on brand.
Example: https://supporthelp.wetransfer.com
Teams Switcher (how to switch between your teams/personal account in the navigation settings)
You can be a part of as many teams as you wish. This could be two company teams and your own personal team for example.
You can switch between teams using the account drop-down navigation on the right. Below is an example of the teams Switcher: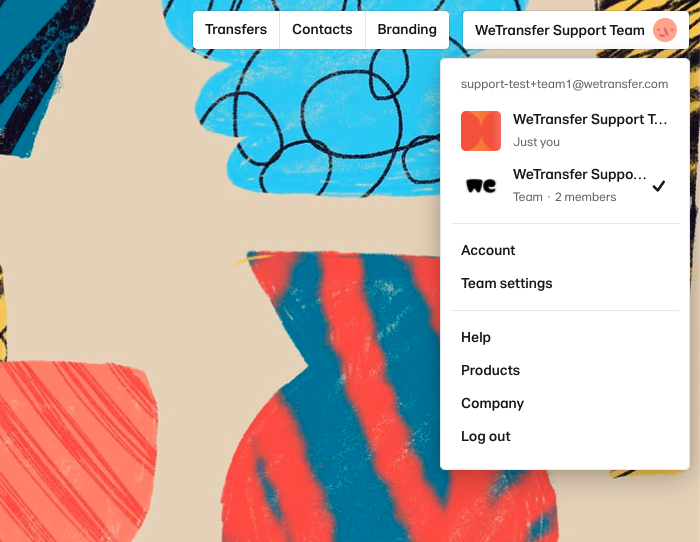 Manage your Team

With your team, you can manage your team members within your account settings.
You can find more details on how to invite, remove or update the status of your members here.
Pricing Overview
Premium
Every new member will cost additionally, for example, 23 EUR/USD per month or 228 EUR/USD per year. Depending on your location, you might be able to use local currencies.
Please keep in mind that Collect Pro is not included and shared within a Teams account.
Pro
Inviting new members to your team will cost you an additional 12 EUR/USD per month or 120 EUR/USD per year. Again, depending on your location, you might see other currencies than EUR or USD.
If you would like to know more about our pricing here.
Ready to start your own team? You can create your teams here.
---