Is your payment failing? Your receipts giving you trouble? Or your subscription not playing nice? Let's see if we can help you out here!
My payment is failing when trying to subscribe
So, you were just about to pay for your WeTransfer subscription and suddenly you got an error message? It's always a pain when that happens, but we can help!
First of all, if the payment was refused and you're sure the details were correct - please don't keep re-entering your details! This can lead to your card being marked as fraudulent.
With that out of the way, here are more things to check:
Please contact your bank or credit card provider to make sure that you're allowed to make international payments. Did you know that we're a Dutch company? 99/100 cases of failed payments are because your bank or card issuer has put a block on international online payments.

Is your card still active? Check the expiry date to be sure.

Using a debit card or PayPal account? Make sure there are funds in your account as well.
I didn't receive my invoice/receipt
When your first payment has been processed, you'll receive your first receipt from us with your welcome email. It will be in PDF format so you will need something that can open that, like Google Chrome or Adobe Acrobat.
All other receipts will be downloadable from within your WeTransfer account. These receipts are not sent to you by email!
Whenever you want to look at your payment history, simply log in, go to your account, and click 'Plan and Payment' to find your PDF receipts at the bottom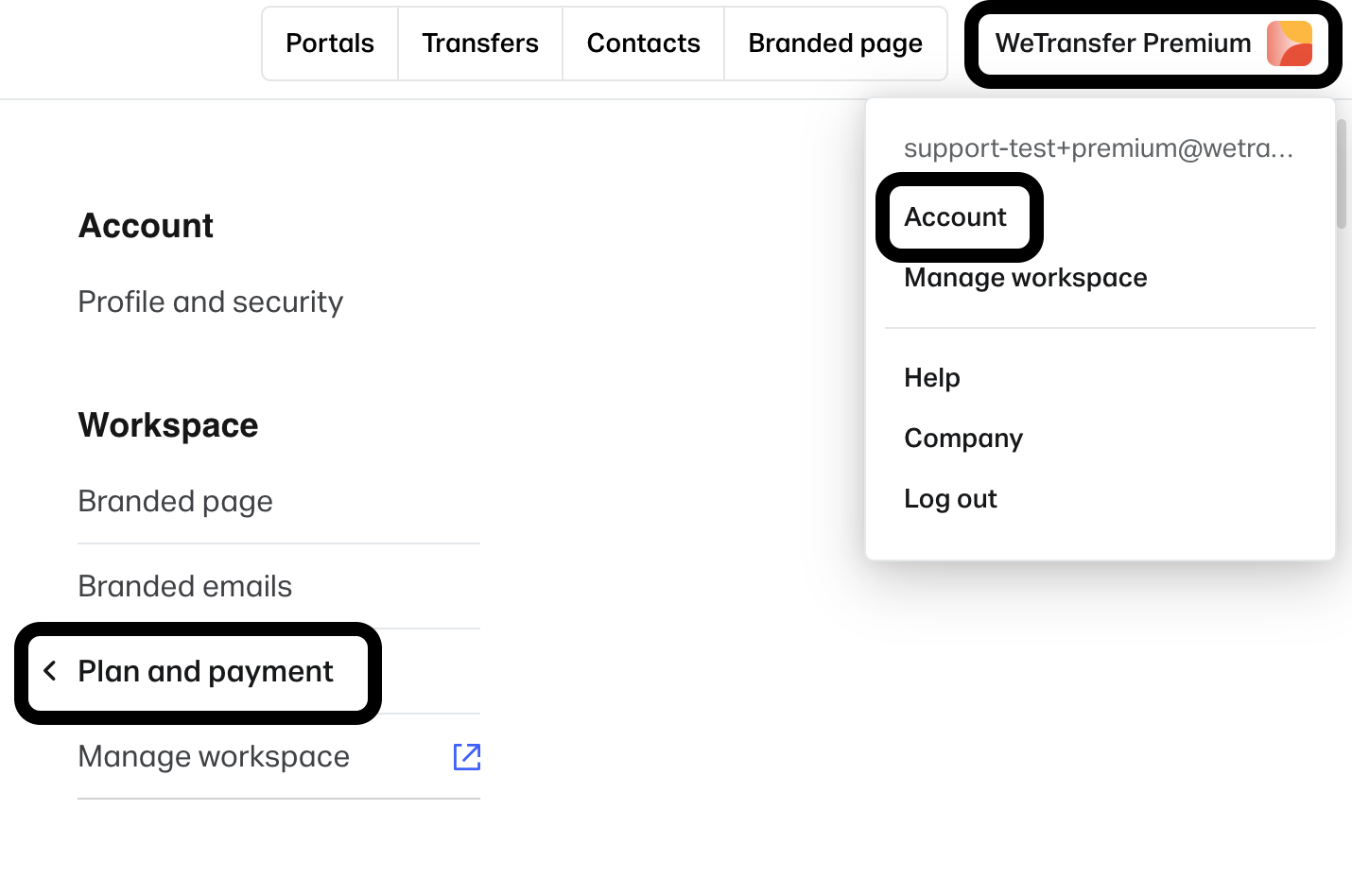 My invoice/receipt has a mistake on it
Our receipts are generated using the details you have entered when signing up for a subscription. If this information is incorrect, there is nothing we can do about that. We can not change the details on a receipt after they have already been paid using the information you have provided.
For future receipts, please check and change the payment and billing details in the 'Plan and Payment' section of your account, so you can be sure your next receipts have all the correct information on them.
I can't cancel my subscription
To cancel your subscription, all you have to do is log in, go into your account, and go to the 'Plan and Payment' section. There you will find a "Cancel subscription" button. Easy!

Don't see this cancellation button? That would mean you're logged into an account that does not have a subscription to cancel. A free account, if you will.
Please log out of the free account and make sure you log into the account that has the subscription you're paying for. If you don't know what account has a subscription on it, please contact our Support team by hitting the button at the bottom of this page, and together we'll be able to find the account in question.

If you've signed up for a subscription using our Android or iOS app, you signed up for a subscription with the Google Pay store or the Apple App store, and not with us directly. Therefore, you won't be able to cancel your subscription in our app or on our website.
Please contact the Google Play store or the Apple App store for assistance on how to cancel your subscription, if needed.
I paid for a subscription, but I'm not seeing it applied to my account
So you signed up for a subscription, but you're still seeing your old account?
Refresh the page or restart the browser. Or if you're using one of our mobile or Mac apps, please restart the app or restart your mobile device.
Are you logged in to the correct account? The one that has the subscription?
Did the payment actually succeed? Maybe the payment was denied. Please check with your bank, credit card company, or PayPal.
The payment may not have been processed yet, and we're waiting on confirmation from your financial institution. As long as we haven't received payment yet, your account will not be upgraded. Please try again later and refresh the page to see if your subscription has been activated. When in doubt, please contact your bank, credit card company, or PayPal.
Are you on our iOS app? Please try restoring your purchase:


- Log into the app (ensuring to use the same account you used to purchase the subscription)
- Go to your Account settings by tapping on your avatar
- Tap on where it says Upgrade
- Scroll to the bottom and tap on Restore Purchase
- Enter your Apple ID credentials to confirm
Did you not find the answer to your troubles? Please contact our Support team by hitting the button below, and we'll help you out!
---