Hint: All it takes is a couple of clicks to select your preferred combination.
If you're reading this you probably already know that you can choose from two plans, WeTransfer Pro and WeTransfer Premium, and two subscriptions, either monthly or yearly. The choice is yours.
Before you complete your order, click to select the plan you want to proceed with. You can choose between WeTransfer Pro and WeTransfer Premium. Then you can decide between the monthly or the yearly subscription. The monthly subscription will be pre-selected by design but you can change that.
Did you miss a click?

Your plan will be set after that first step, but maybe you changed your mind and instead of signing up for the monthly plan, you wanted to sign up to a year?
We're humans so we often change our minds which is why we've made it possible for you to change the plan (or change your mind) as many times as you want, before you process the check out.
Change your subscription while you're selecting your payment method...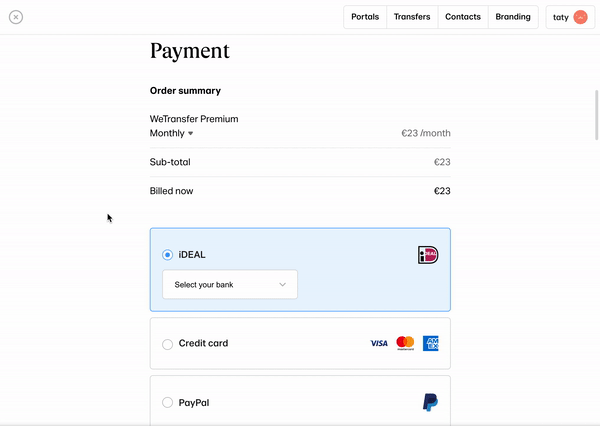 If your subscription plan has ended, you can always resubscribe with a different plan. So, if you were on a monthly plan but want to change to a yearly plan now that your subscription has expired, you can do this when upgrading again.
Still unsure? Reach out to us here, we'll make it right.
---