To upload a folder, all you need to do is drag and drop the folder from your device onto the transfer page, or click the 'Or select a folder' option within the transfer window itself.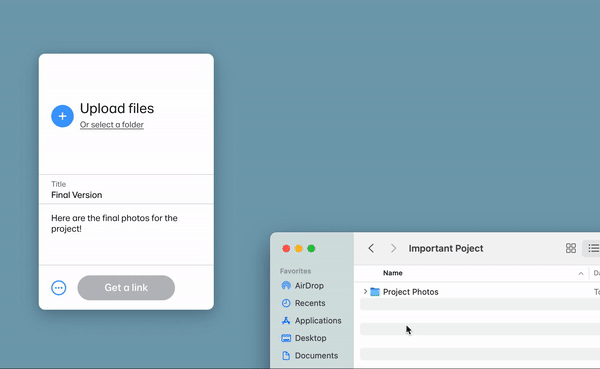 If you need to keep the structure of your files within your folder intact, we'd strongly advise that you create a .zip folder before uploading your transfer. If you don't have a preferred method of creating a .zip, please do have a look here.
Also, if your recipient is having some trouble unzipping the .zip file, you're more than welcome to send them this article, which will walk them through the process.
Please note that the process of uploading folders via both the Safari and Internet Explorer browsers is slightly different.
With Internet Explorer, we can't guarantee that this feature will work consistently, as this browser is out-dated and isn't the most compatible with our service. We'd recommend that you use Google Chrome or Mozilla Firefox, instead.
With Safari, the 'Or select a Folder' option won't display. You'll need to either drag and drop the folder, or click the blue (+) button and select a folder manually.

---