If your VAT number isn't being accepted at sign-up, please see here.
If you're buying a WeTransfer subscription for your company, and you're located in the European Union, VAT can be reduced. Please fill in your EU VAT number during sign-up to ensure we don't charge VAT. We check the validity of VAT numbers in the VIES database.
When you register without filling in your company details, we always charge VAT on your payment and can't change this after the payment has been taken, so please make sure to enter your VAT number right when you sign up. If you have forgotten to fill in your VAT, you can always update your billing details. Here's how.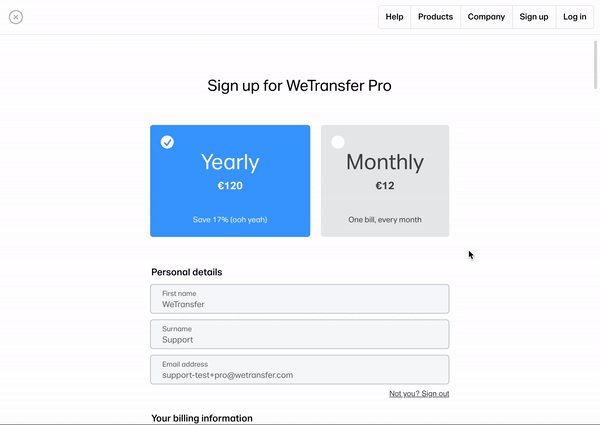 Please note that we have to charge VAT on all invoices in the Netherlands because that's where WeTransfer is located. The amount of VAT charged on the invoice can differ, depending on the tax rules in your country. We still recommend filling in your company details for the invoice because we cannot change these details after your registration.
When your payment has been made, you'll receive an email from noreply@wetransfer.com with your invoice. It will be in PDF format so you need an app to open it, like Google Chrome, Preview or Adobe Acrobat.
My VAT number isn't accepted?
First thing's first: please check if it's filled in correctly, without any periods, spaces, dashes, or special characters.
We need to check all VAT numbers with the EU database, which you can find here.
You can only fill in your VAT number if your business is located inside the EU.
Here's an overview of the countries we can process the VAT number for, with their correct formatting:
VIES - VAT Identification number structure
---