TL;DR Expired or deleted files are completely and forever gone - but you can sign up to WeTransfer Pro to stop this from happening in the future.
There's nothing we can do once the expiration date of a transfer passes. If you see an image like this one: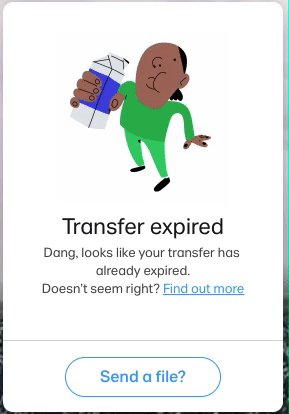 Then that would be confirmation that the transfer has expired, and the files within have been deleted. Deleted, foetsjie, gone with the wind, pining for the fjords, an ex-transfer. Gone really means scrubbed completely from our servers.
We promise senders a certain period of availability when they use our service, and we need to keep our promise and delete the transfers after that period. Besides keeping a promise, we also need the server room, for new uploads.
You were probably hoping we have a hidden stash of expired files somewhere to retrieve those valuable files. We wish. But we don't.
The only option - if you're the recipient of these files - is to contact the sender and ask them to send you the transfer again.
Are you reading this article after finding an expired transfer? There's nothing we can do to revive a transfer that's expired or has been deleted, though if you'd like to prevent this from happening in the future, you can sign up to WeTransfer Pro, and set a custom expiration date for every transfer you send.
Do you have a transfer that's still online, and you want to keep? If your transfer is still active, our Support team can migrate it into a WeTransfer Pro account for you. Just follow the instructions here.
---